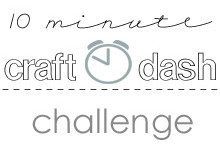 I want to be more creative & crafty, not just when I am at work with the kids, so I accepted this 10 Minute Challenge to use a certain color palette to create a card or aa craft of my choice. Here is what I came up with.
Time it took to create: 8 minutes 49 seconds
Silly Elmer's glue bottle was acting up, otherwise it would have been a much faster project. I had fun with it. Although, I do wish that we hadn't left so many of my craft supplies in South Dakota, if only there had been enough room in our car. Most of the stuff in this card I had to print from the internet. It still turn out cute.
What do you think?